07 Oct

Language of Flowers
I had the chance to ~virtually~ sit down with the lovely Nardine from Scentiment Flowers and discuss the deeper meanings entwined in your bouquets and floral pieces. 
Photographers left to right: Ricky Gestro, Photogerson
From This Day:
Let's start from the beginning, where does the use of bouquets and floral arrangements in general *stem* from? (pun well and truly intended). Are the meanings of flowers a new thing or does that date back to ye olde times?
Nardine:
Floriography (or the 'language of flowers') is described as the 'cryptological communication through the use or arrangement of flowers' and this language has been used for thousands of years throughout Europe, Africa and Asia… there are even references to flowers as 'symbols' in the bible!

But the language of flowers really became a 'thing' in Victorian times when people would send plants and floral arrangements with coded messages to express their feelings (something they seem to have had difficulty saying aloud at the time!)
There are so many reference books published in this area, but my introduction to the language of flowers was through a fictional novel by author Vanessa Diffenbaugh called 'The Secret Language of Flowers'. It's not only an addictive read, but I also saw it as an opportunity to differentiate my floral design business here in the South West.
Photos by Tessa Eckersley
From This Day:
And what do the use of florals at weddings mean now? Most people are just after the overall vibe of an installation or collection of bouquets but can florals play a more significant role in your wedding or elopement?
Nardine:
Yes, totally agree – many people aren't even aware that there are meanings attributed to flowers, but as a point of difference, I like to provide all my brides with a little keepsake, naming all the flowers used throughout their wedding styling, and the traditional meanings for each. I've been known to bring a bride or two to tears with the flower meanings really hitting home on what is already a super emotional day!
On one occasion my bride was mourning the loss of her mum, and really missing her on her this special day. She had asked me to include some blue flowers – her mum's favourite colour – in her arrangements I chose to include delphiniums because they were in-season and particularly lovely at that time of year.
Now I know delphiniums to mean 'cheerfulness' and 'goodwill', but on this particular day as I was writing up her little card, something prompted me to search a bit deeper, and a new meaning popped to the top of the list; 'remembering loved ones who have passed'. As I read that to my bride when I handed her the bouquet, I don't know who was more emotional – her or me! We both felt her mum's presence around us that's for sure.
Photographers left to right: Folktales, Light the Love, Folktales
From This Day:
Can you tell us some of the most popular flower choices and their meanings?
Nardine:
Of course, there can be many different meanings for one flower depending on the region. Different cultures attach different meanings to flowers, white flowers may mean purity in one region while in another they represent something entirely different, however some popular flowers and their meanings are:
Carnation – fascination; divine love
Chrysanthemum – you're a wonderful friend; cheerfulness and rest
Eucalyptus – protection
Fern – confidence; shelter
Gypsophila (baby's breath) – innocence; eternal love
Orchid – love; beauty; beautiful lady
Peony – happy marriage
Rose (general) – happy love
Stock – bonds of affection
Visit Scentiment Flower's listing to see more of her work and to get in touch.
Photographers left to right: Rae Marie, Shannon Stent, Holii & Ash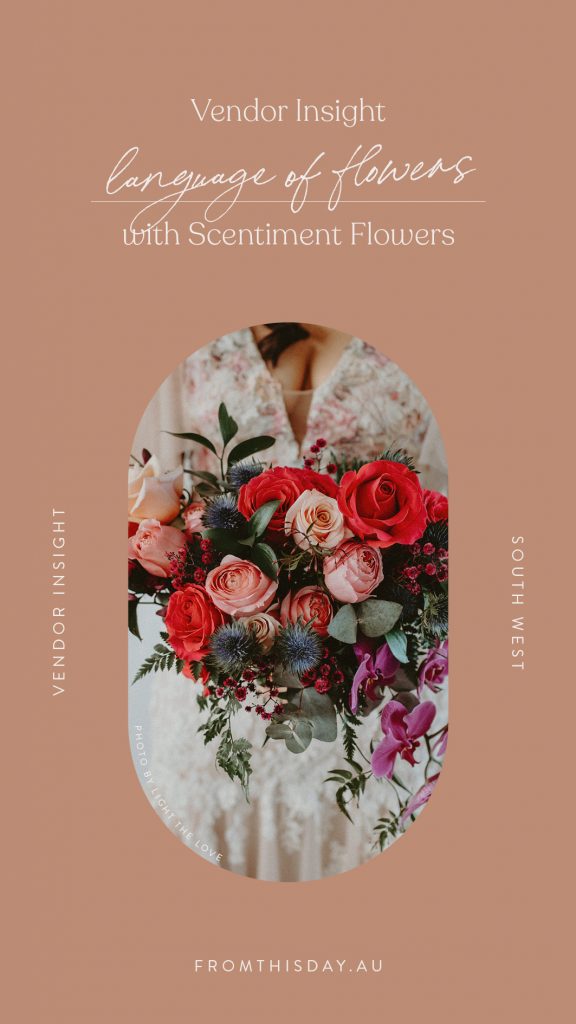 Have you checked out our Pinterest boards yet?
Packed with the latest inspo from your favourite vendors, our boards are the perfect starting point for your wedding styling, all our pins are from local vendors, so you can take your inspiration and go right to the source!
Happy planning! Love, From This Day