16 Oct

For the Lovers Wedding Fair 2022

After a 2 year COVID hiatus, For the Lovers Wedding Fair is back! This year we were thrilled to have 50 amazing vendors exhibiting and over 500 attendees at Old Broadwater Farm in Busselton. We all checked and re-checked the forecast for the day and while we didn't get the blue skies and warm breezes we ordered, the talented wedding vendors on-show for the day well and truly made up for it! So, get yourself a snack and settle in for the re-cap of FTL'22. Photos couretsy of our event photographer Tessa Eckersley, no doubt she racked up just as many steps on the day as us!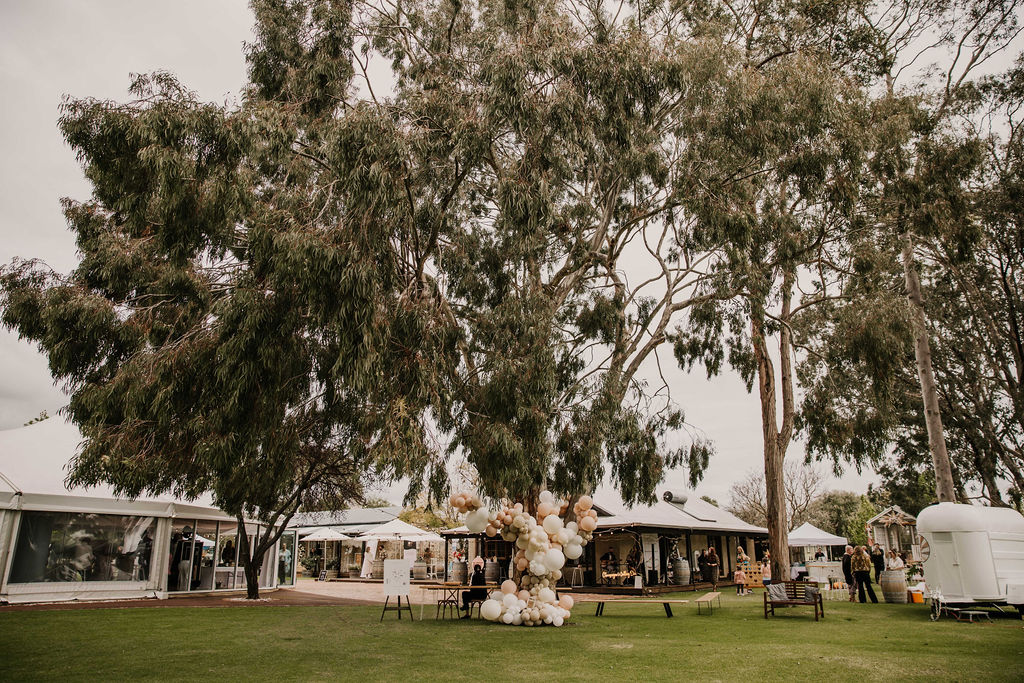 This year's event was host to so many styled areas it is difficult to know where to begin. Upon entry to Old Broadwater Farm it was impossible to miss the intricatley adorned gum tree by Burst Away who's balloon installation was epic in every sense of the word. We aren't sure how they do it but that thing did not move an inch all day! With way-finding signage by Emma Louise Designs, attendees could pick their destination or scan the QR code and take the map with them to navigate their way around the venue for the day.
The first stop was for a coffee at Bean Dreamin, the sweetest little mobile coffee van converted from an old horse float, nestled in among the gumtrees it was the perfect place to caffeinate for the day ahead. Further along we had some interactive stall spaces by Lawns of Love, Tina Marie Marriage Celebrant and Events by the Bay. Abbey Grazing Co had some tasty grazing boxes for sale and Supper Road were offering dessert tastings…yuuum! The soundtrack to all of this was the wonderful Champagne Duo perched on the corner of the OBF cottage thanks to The Wedding DJ one of our event sponsors. At the far end of the cottage veranda, by our bar, you could hardly miss Big Love Tiny Chapel in all her glory.
Next we head to the deck, but not before we stop by the veranda where Events by E, Eight Willows Retreat, Butter Up Cake Co and That Celebrant Girl are set up. Arbours by the bay are first on the corner with their huge heart set up as backdrop and a nod to our event name! Beside them we had Heart to Hands Floral Design, Sabina River and Wedding tails – all new names to the South West wedding scene. While the rest of the deck are some familiar faces from DJ Emma aka The Little Gay Celebrant, Jessica Josie Photography, Cape Cellars and Confetti Days and lastly Confetti & Co Events with a gorgeous little styled area under the Jacaranda. If you popped up onto the veranda from here you would have come across the official Old Broadwater Farm stall as well as our very first stall for From this Day Wedding Directory!
From here it was only natural to head straight into the marquee where of course you have one of our sponsors Ryan from The Wedding DJ with one of his DJ's Omar on the decks and Mirror Booth set up at the entry. Diamond Event Co were opposite with 2 reception styles on display and their ghost chairs in pride of place in the centre of the marquee waiting and ready for our 11:30 and 1:30 runways. Around the outside of the marquee were Ingrid Kjelling showcasing her photographic talents, Retrobooth's open air photobooth, Isle Lumiere with LOVE letters, Neon and shimmer wall, Hidden Beaute Studio, Burst Away, Brides on a Budget and South West Weddings With Nikki with her luxurious lounge set up thanks to sponsor Hire in Style. Front and centre (well… back and centre) were another sponsor, Bridal by Aburey Rose and their stunning gowns. We were treated to a runway show featuring these gowns with the model's hair by CiNCO Hair Boutique and make up by Hidden Beaute Studio and the Wedding DJ showing us his hidden talent as a fashion runway MC!
Next on the list – especially if you are new to visiting Old Broadwater Farm – is the iconic Pavilion ceremonly location. With a few stops on the way at Mr Mustang with balloon installation by Burst Away, Scenic Helicopters, Mint Events for a quick cocktail and Shelter and Credaro Winery for yet more tastings.
And here were are at the Pavilion Styled Spaces with more live music from The Wedding DJ, event organisers Emma and Chantelle began plans for this years event with the idea for these styled spaces, a chance for like-minded creative vendors to pull together a collection of styles to really showcase their talents to visiting couples. A chance for couples to really see the details of wedding styling and chat to the vendors behind the creations.
First on the right was Lauren Green Events and Scentiment Flowers, the furniture for this styled space was from Hire in Style and lighting by sponsor Festoon. This styled space offered a riot of colour from every angle. A rainbow of florals from the blues and purples by the the casual seating to yellows, oranges and reds at the opposite end of the dining table, all set against crisp white furniture.
On the left of the Pavilion was Sami from The White Owl Collective with florals by Mayflower and furniture, tableware and bar from South West Event Studio and lighting by Festoon. This space embodied the bright candy colours Spring has to offer; pinks, oranges and yellows on display at every turn, a colour bomb if ever we saw one!
The Pavilion back wall was host to Kim from the Wedding Concept along with florals from Honeybloom and furniture and tableware from South West Event Studio and yet more lighting from Festoon. A minimal and uber-elegant set up with whimsical ceremony florals and a huge fabric installation that oozed romantic vibes all day.
And lastly event sponsor Hire in Style showcasing bar, tablescape and lounge area. With their gorgeous rattan furniture, ribbed glassware and bright blooms by Mayflower we could very easily settle in here, ready for summer cocktails! ✨
For the Lovers Wedding Fair would be nothing without talented vendors putting in such a huge effort and of course all of our amazing couples who attend each year. So from the bottom of our loved up hearts we want to thank each and every one for helping us create such an amazing event for all of you… for the lovers

#welovelove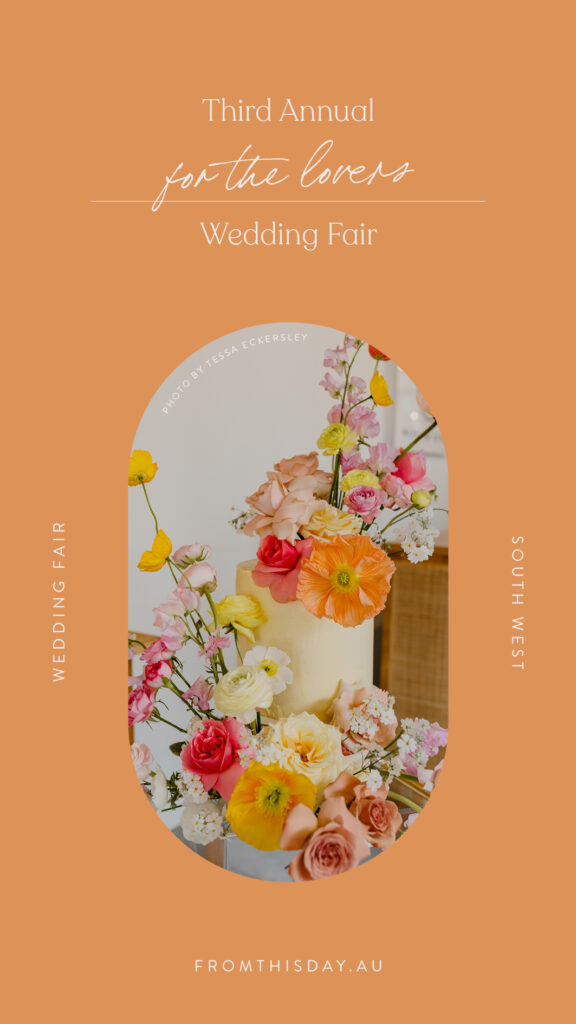 Have you checked out our Pinterest boards yet?
Packed with the latest inspo from your favourite vendors, our boards are the perfect starting point for your wedding styling, all our pins are from local vendors, so you can take your inspiration and go right to the source!
Happy planning! Love, From This Day