11 Nov

Vendor Insight – Burst Away
Burst Away
Heading Image by Tessa Eckersley
Burst Away is a locally run husband and wife business in Busselton, we offer event planning and decoration services for celebrations of all kinds, from balloon garlands to kids party setups, weddings, birthdays and so much more.
We are all about the finer details! We offer many services to those looking to decorate their event, from custom balloon garlands to props, backgrounds and even bouncy castles!
We always strive to try new and innovative techniques, we love to ensure every installation is unique and created to a standard higher than the last. As part of our process, we encourage our clients to visit our showroom and meet with us so we can all gain a better understanding of your vision and how it can be created.
What inspires you?
I feel inspired to create beautiful, unique creations everyday, knowing that people get to enjoy them! It warms my heart to know that I have been able to be a part of their special celebrations and help make it magical – just like they imagined! 
We have always been very creative people, I have the vision and Dan has always been great on the tools, dream team right! We naturally fell into the party prop hire world and with every new client and event we create, it brings us so much happiness! 2 years on and we are onto bigger and better things, from being a home-based business to leasing a commercial space where we were now able to offer showroom tours which allows clients to have a better understanding of our services.
What would we find in your toolbox?
What's not in our toolbox!? As an event and party stylist you need anything and everything at our fingertips! Most importantly, we need our balloon pumps, elastic bands and of course our tying fingers!
What does a typical day at work involve for you?
When it comes to any setup or installation, there is a lot of prepping and planning behind the scenes which typically takes longer than on-site installation! Before we can begin an installation, we need to order the correct balloon shades, design the personalised cut-out decals, paint and prep custom props, the list goes on!
When you're not working, where would we find you?
If we are not creating for an event, we have usually found another project to do at home – we just love creating and seeing our vision come to life!
What are the Top 5 FAQ's you receive?
Q: Do you have a showroom?
A: Yes! We are located in the Busselton LIA, meetings are by appointment only.
Q: How far in advance do we need to book in?
A: Please give us as much notice as possible, our services vary in lead-time so please get in touch to discuss your needs!
Q: What services do you offer?
A: From personalised balloons and hire items to fully customed party packages, we have so much to offer!
Q: What areas of the South West do you service?
A: We travel all over the South West region up to 1.5 hours from Busselton CBD.
Q: Are your balloons harmful for the environment?
A: Many people do not realise a latex balloon is in fact biodegradable and we do our upmost to inform them where and how they are created. The latex is harvested from a rubber tree, and eventually transformed into the balloons we all know and love. Once used, these latex balloons will then break down and turn into compost in as little as 3 weeks. Our balloon weights for helium orders are handmade in store with sand and latex, we use paper confetti or recycled metallic confetti, and reuse as much of our products as possible trying to only use natural cleaning products for sanitisation. We are also active members of PEBA (www.peba.com.au) and promote "Pin it and Bin it" – the responsible use and disposal of balloons.
Advice for couples planning their wedding.
Be organised and don't leave the details to the last minute! At the start of your planning, give yourself time to work through the details that you really want at your wedding or event that will make it special for you! These are the details that you and your guests will remember and help create beautiful memories of the day.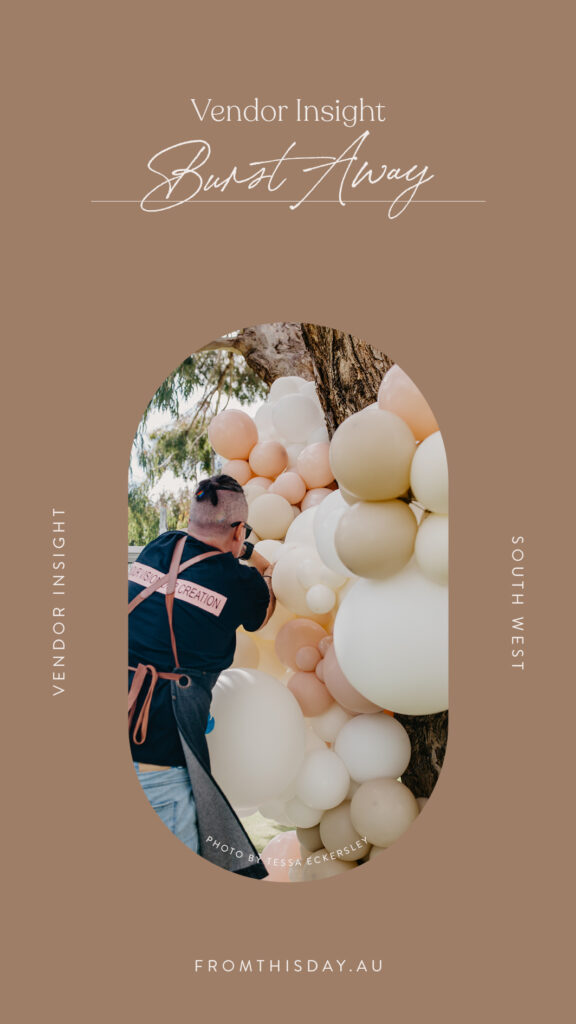 Have you checked out our Pinterest boards yet?
Packed with the latest inspo from your favourite vendors, our boards are the perfect starting point for your wedding styling, all our pins are from local vendors, so you can take your inspiration and go right to the source!
Happy planning! Love, From This Day