25 Nov

Chelsea + Lewis
Chelsea + Lewis
Married on 20 March 2021
The proposal
Lewis had an elaborate perfect day planned but due to bad weather bailed out on it. He instead waited until the next day, after way too many cocktails when I was feeling very sorry for myself. Up side was our adorable puppy was the ring deliverer.
Why we married Down South
The key thing we both wanted for our wedding was for all our friends and family to be relaxed, on holiday and together for as long as possible, rather than just a fleeting day.
Highlight of the Day
With emotions running high all day Chelsea and Lewis recall the first time seeing each other on their wedding day: "Walking down the aisle, seeing each other and the stunning florals!" – who could miss the rainbow blooms! And what wedding is complete without delicious meal, catering by Supper Road is always a note-worthy addition.
Wedding Playlist
Aisle song: Our Corner of the Universe
Signing songs: I Will Follow You in the Dark – Death Cab for Cutie
First Dance: Nothings Going to Hurt You Baby – Cigarettes After Sex
Describe Your Styling
"Whimiscal and colourful" – you can say that again! Chelsea and Lewis' wedding was the bright colour bomb we need in our lives. Put together by the uber-talented Signature Floral Design, the blooms were such a feature for this duo's big day.
Advice for Newlyweds
Chelsea and Lewis: "[We] highly recommend finding it in your budget to have a videographer. The day flies by and you're overwhelmed by everything, so being able to look back and watch the whole day is amazing. Being able to see and hear the emotion in the moments which isn't portrayed in photos." 
Beverage Supply Cape Cellars
Brides Gown Bridal by Aubrey Rose
Bridesmaids Shona Joy
Chocolate Table Koko Black 
Caterer Supper Road
Celebrant Kiss Me You Fool
DJ DJ Emma
Florist Signature Floral Design
Hair CiNCO Hair Boutique (Bridesmaids)
Jewellery Kailis Jewellery
Makeup The Pretty Parlour
Photographer Ben & Ebony
Rings Michael Hill 
Stationery & Signage Emma Louise
Suits Politix (Groom) MJ Bale (Groomsmen)
Venue Old Broadwater Farm
Videographer Ben & Ebony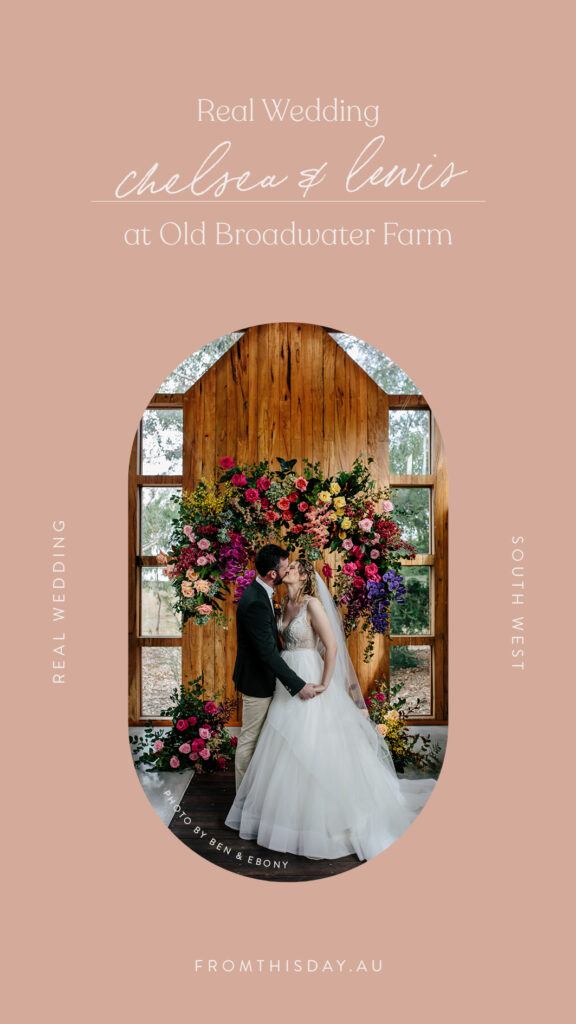 Have you checked out our Pinterest boards yet?
Packed with the latest inspo from your favourtie vendors, our boards are the perfect starting point for your wedding styling, all our pins are from local vendors, so you can take your inspiration and go right to the source!
Happy planning! Love, From This Day