01 Dec

Instagram Accounts to Follow – Summer Edition
Instagram Accounts to Follow
Heading Image by Driftwood Photography for Barefoot Beach Weddings
Summer is upon us… finally!!! To celebrate, we've rounded up some accounts that we think are pretty spesh. Sending you into the holiday season with all the wedding inspo you've been craving
1. Barefoot Beach Weddings
To us, Barefoot Beach Weddings embodies the idea of summer in the South West. Sandy toes, salty breeze and the mesmerising sound of waves lapping at the shoreline. Throw a perfectly styled wedding into that visual and you can sign us up any day of the week. Picture a late-afternoon ceremony on Gnarabup Beach, just outside Margaret River, followed by a cocktail reception on a beautifully styled deck with ocean views at the White Elephant Cafe. 🤩
View Listing |  Take Me to Instagram
Photos by Driftwood Photography
2. Aravina Estate
Summertime in the lush gardens at Aravina, can you think of a better location for your nuptials!? We are in love with the newest addition – their ceremony location complete with three-tiered gardens boasting over 100 varieties of trees and flowering plants overlooking the vines and lake.
View Listing  |  Take Me To Instagram
Photos by James Simmons
3. Festoon

We are constantly in awe of the creativity coming from this team! If you can think it – chances are they have it. Lighting is so important at events, yet often overlooked, do you self a favour and get scrolling – it is bound to get the creative juices flowing!
View Listing  |  Take Me To Instagram
Photos by Flossy, Ridhwaan Moola, Shoot Me Jimmy
4. Confetti Days
We love a good love story, and we think it is safe to say that every celebrant *ever* does too! Donna is no exception, her warmth and genuine love for all her couples is palpable if you have ever been to one of her ceremonies. If you have never had the pleasure, check out her feed for all the ceremony feels 🤗🥰
View Listing  |  Take Me To Instagram
Photos by Paris Hawken, Photogerson
5. Scentiment Flowers
Nardine's attention to detail, right from the quoting stage through to your wedding day is always immaculate. Creating blooms in a range of styles, from minimal and monochromatic to full scale colour bombs and everything in between. We love popping over to her Instagram page to see her latest creations and we know you will too, each wedding is featured in bite sized portions, featuring her stunning blooms front and centre, with glimpses to the other elements of the couple's wedding day so you can really get the full effect!
View Listing  |  Take Me To Instagram
Photos by Photogerson, Black Bird Tale, Light the Love
6. Two Birds & Co
Good photography is right up there on our wedding must-haves. When you see work from the likes of Two Birds & Co you will understand why! Every detail, expertly captured: the tiniest of moments forever frozen. Your wedding day will flash by in a blink-and-you'll-miss-it type fashion but the images you have in your album will live on, ready to be swooned over when you are old and wrinkly but still side by side with your forever human. 💘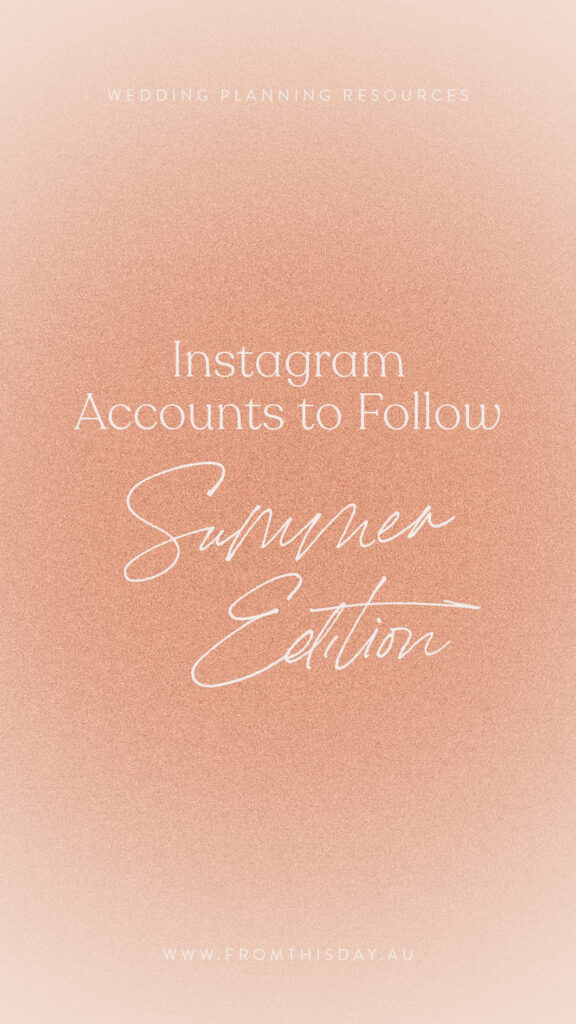 Have you checked out our Pinterest boards yet?
Packed with the latest inspo from your favourite vendors, our boards are the perfect starting point for your wedding styling, all our pins are from local vendors, so you can take your inspiration and go right to the source!
Happy planning! Love, From This Day