24 Jan

Jaki + Tiah
Jaki + Tiah 
Married on 22 January 2021
The proposal and why we chose to marry down south
On our anniversary we went to Sugarloaf to watch the sunset. Jaki read out a letter she wrote and at the end got down on one knee! We chose to marry down south as it's we have shared so many memories together in the region; it has so many beautiful places we both love to visit.
Advice for Couples
Make sure everything you choose to include in your wedding day is what you want and what will make you happy; not what others request. As a result, the whole day was amazing! The day goes so fast so lap it all up. Schedule time to spend alone with each at other some point during your wedding.
Aisle Song
Blessed – Thomas Rhett
Brides Gowns Grace Loves Lace &
Rachel Rose Bridal / Bridal by Aubrey Rose
Cake Sweet Stylin
Caravan Bar Mint Events
Celebrant Anita Revel
Hair Madison Lilburne Hair &
Wild Flower Hair Co
Make Up Brit Gerrans Makeup Artistry
Hire Hire in Style
Photographer Wild Feathers Creative
Venue Old Broadwater Farm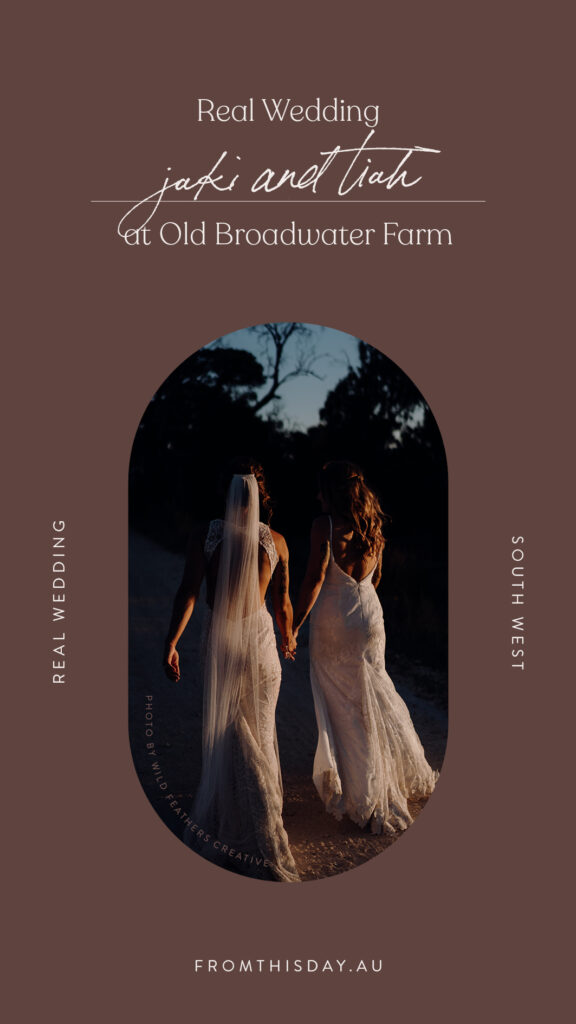 Have you checked out our Pinterest boards yet?
Packed with the latest inspo from your favourite vendors, our boards are the perfect starting point for your wedding styling, all our pins are from local vendors, so you can take your inspiration and go right to the source!
Happy planning! Love, From This Day