31 Jan

Amy + Andy
The proposal and why we married down south
We love holidaying in Prevelly and are huge fans of Voyager Estate. We had planned to stay down south for NYE and go to Voyager Estate for their degustation lunch to celebrate NYE. I (Amy) had always said to Andy to please not propose in front of people, especially in a restaurant. But after a mishap getting the ring out of his pocket in the beautiful gardens before lunch he had to resort to a panicked proposal in the restaurant. Thankfully no one really noticed us other than the lovely waitress from Voyager who was coming over with the next course at the time.
We then chose to marry down south because Andy grew up in Busselton and that was his one non-negotiable. We are so glad we did – there are some amazing vendors down south and it's such a nice way to have a couple of days with your loved ones.
Playlist
Aisle: Follow the Sun (Acoustic) by Caroline Pennell (parents and doggo, Stella)
Aisle: Love you for a long time by Maggie Rogers (bridesmaids & bride)
Signing: Baby It's you (Kolsch Version) by London Grammar & Simply the Best by The Hound + The Fox
Recessional Song: (Your love keeps lifting me) Higher and Higher by Jackie Wilson
Reception Entry: A Good Night by John Legend
First Dance: My Girl (Acoustic) by Tiffany Alvord transitioned into The Temptations version
Our Style
We really wanted the wedding styling to be something that would be timeless when we looked back, so we went for a modern romantic style. Lots of whites and neutrals with pops of pink. Having planned the wedding ourselves, we were really hoping our ideas would all come together on the day. The fantastic team at Festoon Lighting and Tanya from Sea of Love Studio absolutely brought it all together for us with the feature lighting and florals.
Favourite moments
Andy – Cliché but there were so many. The first thing that comes to mind however is seeing Amy at the end of the aisle and then standing across from me. Amy is the most beautiful woman, and that day was no exception. When Amy reached me at the end of the aisle I was blown away. In fact, my 2-minute vows ended up being 15 minutes long (no joke) because I was so choked up. Fun times.
Amy – The vows and the ceremony Nikki had prepared for us were by far my favourite part of the whole day. I was so terrified of spilling the beans in front of everyone but it was such a special moment for us. Also, Tiller's food was amazing!! We knew from the moment we met George and Kayleigh they were going to be fantastic but we were mind blown.
Advice for couples planning their wedding 
Sit down with your partner at the start of wedding planning and discuss what is important to you both and what traditions you are not fussed about. Don't then let family or friends persuade you otherwise. It can be hard not to take on so many different opinions but just focus on what you both want for the day and it will all work out.
If your wedding is going to be outside, have a Plan B that you are just as happy with as your Plan A. It will remove the stress in the lead-up and save you from checking the BOM website daily.
Finally, surround yourself with people that you trust and you know will support you through the rollercoaster of wedding planning and on the day. This applies to both vendors and your wedding party. We picked our vendors based on trust and getting good vibes from them all and this removed so much stress because we knew they would pull it together for us on the day.
Accommodation Coastal Retreats (Ard Na Mara)
Beverages Dunsborough Cellars
& Dan Murphys
Celebrant Love Empire with Nikki
Ceremony Tiller Farm
Coordinator Lauren Green Events
Dance Floor Lonsdale Party Hire
DJ DJ Katie B (via South Sound Events)
Fashion: Bride Earrings Amelie George Bridal
Fashion: Bride Oxford Bridal (Zavana Bridal)
Fashion: Bridesmaids Shona Joy
Fashion: Groom Institchu
Fashion: Groomsmen Oxford Clothing
Florist / Stylist Sea of Love Studio
Furniture Yallingup Event Hire
Hair Michelle Hair Lab
Illustration Cassandra Anderson Illustrations
Lighting Festoon Lighting
Makeup Sitting Pretty (Hayley Johnson)
Photographer Amanda Afton Photography
Rings Alex Grindley
Stationery Danger and Moon
Transport Gannaways Charters & Kuste Kombi
Venue & Catering Tiller Farm
Videographer Little Sister Films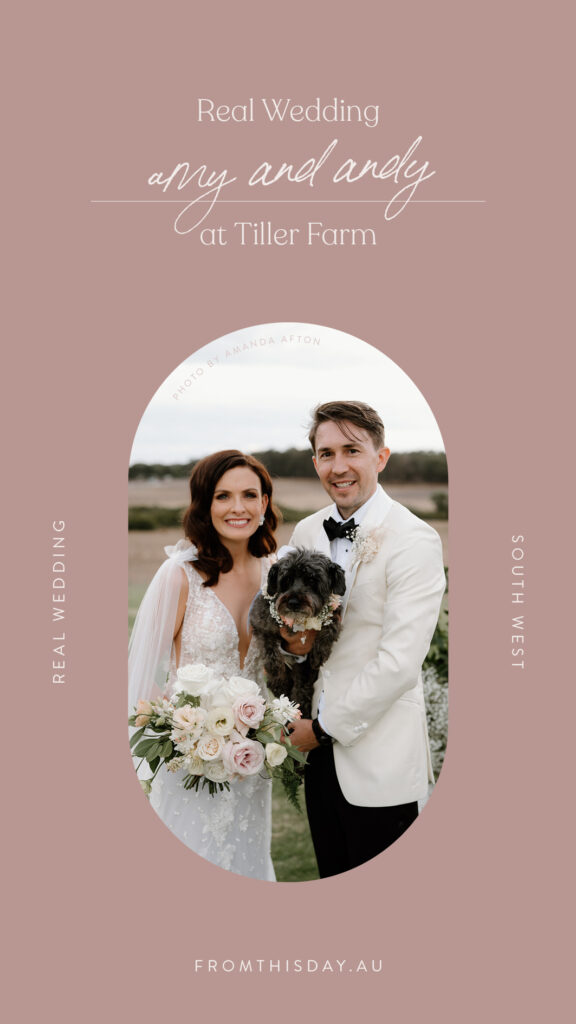 Have you checked out our Pinterest boards yet?
Packed with the latest inspo from your favourite vendors, our boards are the perfect starting point for your wedding styling, all our pins are from local vendors, so you can take your inspiration and go right to the source!
Happy planning!
Love, From This Day