07 Oct

Vintage Re-Imagined
The Venue
The Bridgetown Hotel was chosen as a venue due to its rich, dark timbers, lead-light windows and old-world charm, but we wanted to present it in a more modern way, so lots of light-coloured furniture and table accessories were bought in to show just how beautifully two very different design styles could complement each other… and Vintage Re-imagined was born!
About the Concept
A group of passionate wedding vendors put their creative heads together to produce a styled photo shoot that would promote the southern forests region and all the unique qualities it has to offer couples as they plan their dream weddings.
The Style
We chose to feature yellow, gold and white as a colour combination that's not so frequently used these days, in the hope that couples would think 'outside the box' when it comes to designing their wedding colour palette.
Our wish is that couples use these images as inspiration not only for choosing their wedding venue, but also to picture how it could look when styled by a professional team of wedding vendors, using light, bright, modern materials and textures.
We hope you enjoy Vintage Re-imagined!
Meet the Vendors
Cake – Cherish the Cake
Concept, planning & florals – Scentiment Flowers
Concept, planning & styling – The Style Est.
Event furniture – Empire Events (Hire in Style)
Glassware, crockery, cutlery – South West Event Studio
Gowns – Loui Col Designs
Hair – Studio S Hair Design
Makeup – Annie Giacomel MUA
Model – Pippi – Viviens Model Management
Napery & bouquet ribbon – Her Beautiful Mess Creative
Photographer – Jessica Liebregts Photography
Signage – Ink & Dust Designs
Stationery – Emma Louise Event Stationery
Venue – The Bridgetown Hotel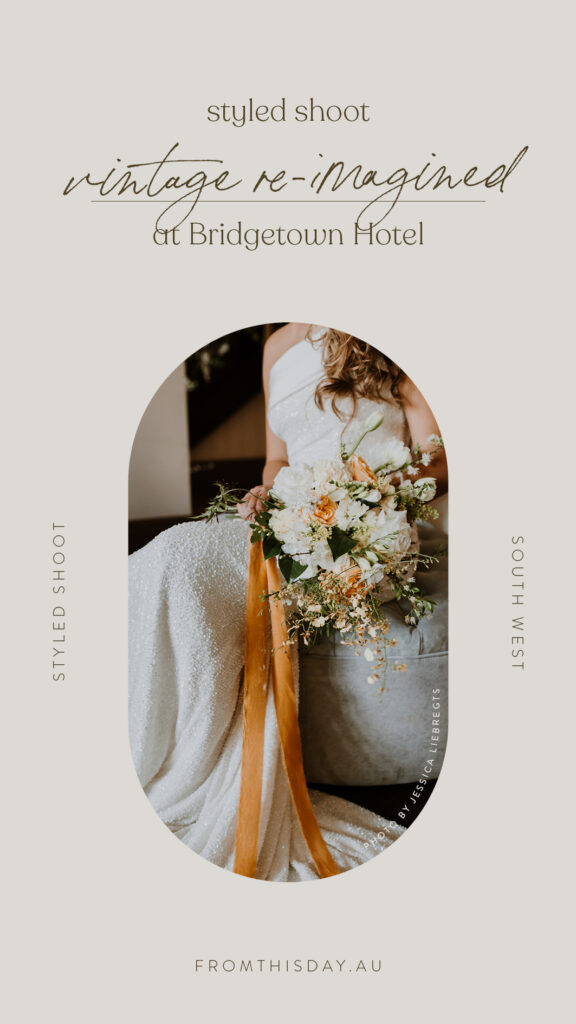 Have you checked out our Pinterest boards yet?
Packed with the latest inspo from your favourite vendors, our boards are the perfect starting point for your wedding styling, all our pins are from local vendors, so you can take your inspiration and go right to the source!
Happy planning! Love, From This Day