07 Oct

5 Reasons To Allocate Seating At Your Reception
5 Reasons to Allocate Seating at Your Reception
With Emma Louise Event Stationery
Emma discusses some reasons you might not have considered when deciding on whether or not to have allocated seats at your reception. "I'm all about creating a stress free wedding day and when it comes to seating plans, I can't emphasise their importance enough! They might seem tedious and frustrating task while you work on them but they're worth it in the end, promise!"
1. Don't forget your VIP's 
There are usually a few guests who are about as excited for your wedding day as you are (mum, dad, grandma and close friends who didn't make the bridal party… you know the ones) and you want them up the front, sitting near you or in a spot that reflects their importance to you.
Imagine if your mum or dad was held up chatting to other guests or helping you bustle your wedding gown before your grand entrance, only to enter the reception and find out the primo seats have already been taken? They would be absolutely devastated, and while they would be able to awkwardly shuffle guests around to get to the right spot, it could cause unnecessary distress for your nearest and dearest.
We would all like to think no one on our guest list would let this happen, but would you rather just avoid the awkward and upsetting situation all together? Yeah, me too.
Left to right: Keeper Creative, Keeper Creative, Merge Photography
2. Dietary Requirements
Before you lock in your free-range seating arrangement, keep in mind the vast majority of caterers and venues will require each guest to have an allocated seat so they can quickly and easily locate those with allergies and dietary requirements without trekking the entire reception to find their target.
If you know someone with a severe food allergy, you will appreciate the importance of this reason from both the guest and caterer's perspective. This simple gesture for their safety (as well as mentioning that their requirements have been provided for) will not go un-noticed. Same goes for Vegetarians, pescatarians, vegans and any other non-allergy related requirements.
Photos by Keeper Creative
3. Avoiding musical chair mayhem and empty seats
You know when you go to the movies (or anywhere) and there is no allocated seat on your ticket? If there are plenty of free spaces around, generally you'd leave at least a courtesy seat or two between you and a complete stranger. Same goes for weddings. So to avoid the last few empty seats being no where near each other… seating chart!
Generally speaking, your venue will set the exact number of places needed, no more, no less, and if you are ordering in your own cutlery, crockery and linens, you'll appreciate the slightly smaller bill. Allocated seating also discourages musical chairs – who wants their husbands seat taken by the grooms weird uncle half way through the evening?! There's plenty of time for mingling once the main meal is finished…
Photos by Tessa Eckersley
4. Family Dynamics
Yep, that old chestnut. It is a well known fact that seating charts can cause disagreements between family members, but they're better to have in the lead up to the wedding rather than on the day by letting guests choose their own seats and causing situations that are out of your control.
If a particular guest popped into your head as you read this, take it as your personal sign that you need to create a seating chart, emotions run high AF on wedding days! This also means that you can position certain guests where you know they will have the best time possible, think: rowdy work mates near the dance floor, hard-of-hearing nana by the speeches and your parents and besties front and centre! You can thank me later.
Photos by Tessa Eckersley
5. Round Tables
Lastly, and possibly the only (half) exception to the rule, where you can get away with just allocating guests to a table and not a specific seat is with round tables. But hear me out: you will still need to create a seating chart for this. However as you can only fit a certain amount of guests per round table – usually around 10 – it is easier for guests to choose their own seat at their allocated table and not cause catering chaos as there is very little room for error!
If you go with this option, please still check with your caterer or venue as they may still need specific seat allocation if there are dietary requirements.
Left to right: Keeper Creative, Tessa Eckersley, Keeper Creative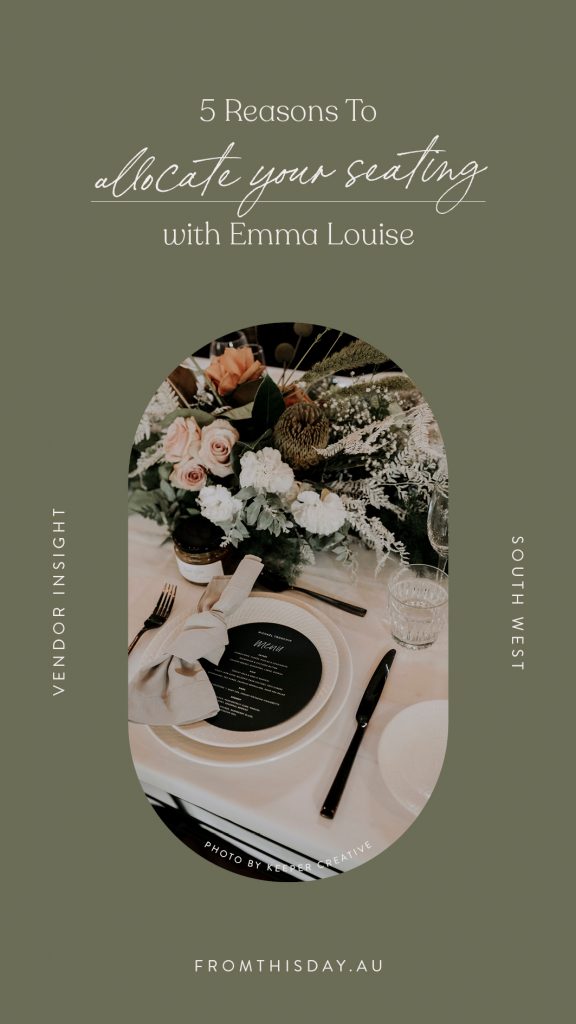 Have you checked out our Pinterest boards yet?
Packed with the latest inspo from your favourite vendors, our boards are the perfect starting point for your wedding styling, all our pins are from local vendors, so you can take your inspiration and go right to the source!
Happy planning! Love, From This Day