15 May

Losari Retreat Open Day 2023

On 22 April 2023, Losari Retreat welcomed couples to visit and view their breathtaking venue. We had our fingers crossed for good weather, though no one anticipated one of the most stunning Autumn days any of us have seen! A huge thank you to everyone who came along on the day and viewed the venue, if you didn't get the chance, this Journal Post is for you!

Losari Retreat is an iconic South West Wedding venue. A hidden gem set on 66 acres in the idyllic Margaret River Region with six luxurious spa villas for up to 16 guests. Boasting lush, manicured gardens, a picturesque lake, welcoming Clydesdale horses and canopies of trees and roads that wind around stone fountains and bridges.

We welcomed guests with a glass of bubbles courtesy of Howard Park Wines and a sweet treat from Butter Up Cake Co with something a little more substantial from MRCH Catering's delicious grazing spread as well as a goodie bag with information from all of the vendors on the day.

Couples were welcomed to the venue with the divine voice of Michelle Spriggs who serenaded us all day! While we didn't get to see one of their helicopters in person, Scenic Helicopters offered visitors information on how they could incorporate a flight into their big day at Losari Retreat.

Overlooking the lake and sweeping lawns of Losari Retreat, a styled reception space by Lauren Green, South West Event Studios and Florae Floral set the scene for a warm summer evening wedding under the stars.

As we continued on our stroll towards the lake, Mr Mustang couldn't help but draw the eye! And lastly, we arrived at a styled reception and cocktail hour space by Yallingup Event Hire showcased a few different looks using their range of furniture and styling items as well as a bar area, all under one of their Hampton Tents overlooking the Losari Lake. 

Thank you to all of the vendors who helped bring this truly beautiful day together for Losari Retreat, and a special shout out to Place of Love Photo + Film for capturing the day so perfectly!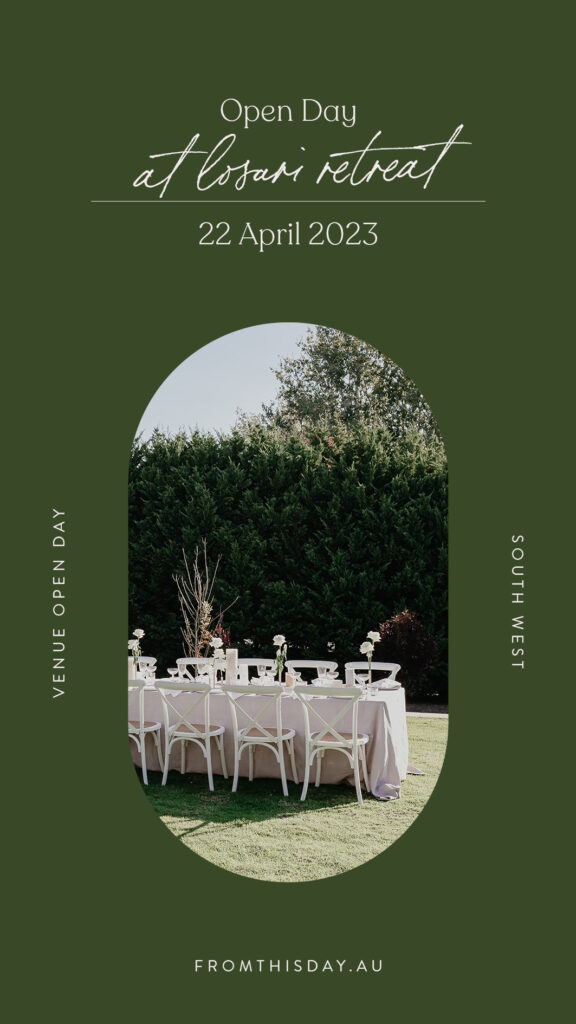 Have you checked out our Pinterest boards yet?
Packed with the latest inspo from your favourite vendors, our boards are the perfect starting point for your wedding styling, all our pins are from local vendors, so you can take your inspiration and go right to the source!
Happy planning!
Love, From This Day